Making kitchens clean, hygienic and environmentally responsible for over 70 years.
Food waste disposers make life easier and better. InSinkErator food waste disposers are the best-selling brand in the world, and with good reason: they're the easiest disposers to install and they provide the greatest peace of mind.
Food Waste Disposer Explained
Many people are under the impression that food waste disposers utilise spinning blades to chop and break down food waste. In fact, nothing could be further than the truth.
InSinkErator food waste disposer units use no blades whatsoever. Instead, impellers mounted on a spinning plate use centrifugal power to force food waste particles against a grind ring. That ring breaks down the food waste into very fine particles – virtually liquefying them.
Running water from the tap then flushes the particles through the grind ring out of the disposer and into your wastewater pipe. From there it flows to the wastewater treatment plant or your septic system.
Engineered to handle even the toughest food waste with the least noise of any disposer, the Evolution Series is the most advanced line of food waste disposers available anywhere.
Available only from InSinkErator, this "twist-on. twist-off" sink mount makes installation fast and easy, no matter what disposer you're replacing.
In order to reduce noise we've created SoundSeal technology, featuring an exclusive Anti-Vibration Mount®, Quiet Collar® and SoundLimiter®  insulation technology. The result is a noise reduction of up to 60%.
At the heart of the Evolution PRO Series is exclusive new MultiGrind technology. With new features such as GrindShear Ring®, Tri-Action Lug System® and Undercutter Disk®, the 3-stage design makes quick work of both hard and fibrous foods. You can stop worrying about what you can or cannot put in your disposer.
DuraDrive® Induction Motor
These powerful, heavy-duty motors are manufactured by InSinkErator to exacting specifications that help ensure high performance and long life.
PowerBoost® Micro Processor
Detects when the motor is under extra load and delivers more power to boost the grinding capability.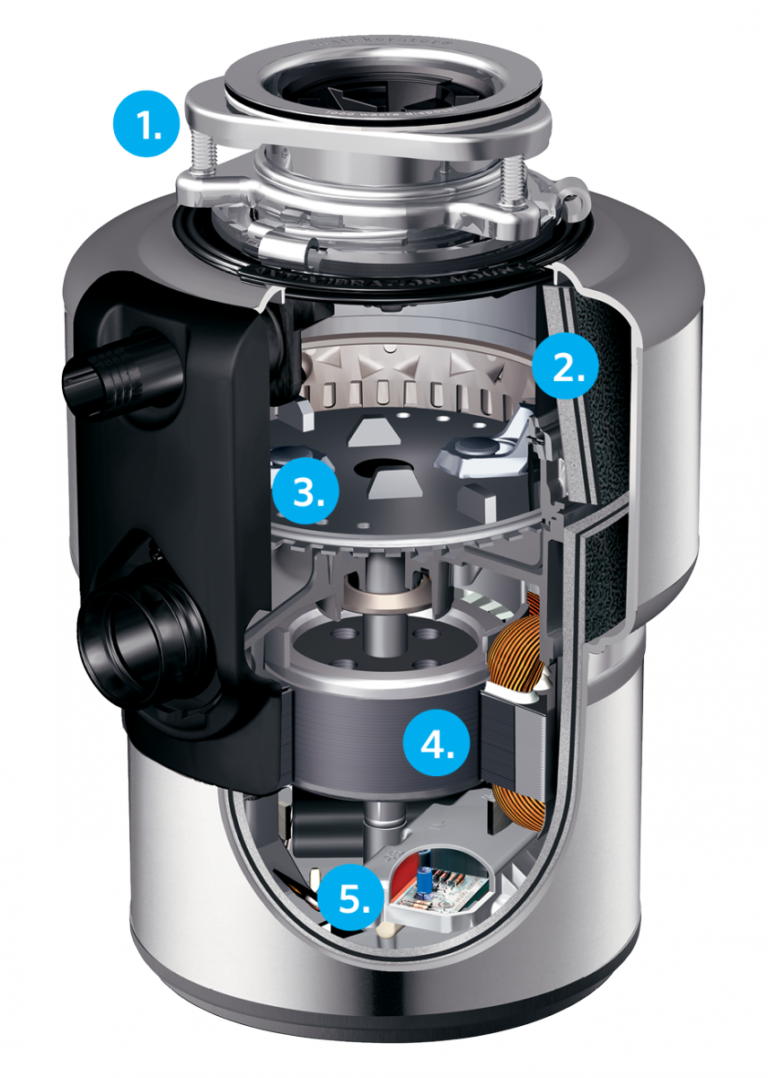 Food Waste Disposer are safe on Septic
6 Million Homes on a Septic Tank Have a Food Waste Disposer You'll find an InSinkErator food waste disposer in over 6 million American households with a septic tank. InSinkErator Food waste disposers have always been safe for properly sized septic systems. For example, if your system is sized for a dishwasher or clothes washer, it can handle a disposer. A disposer uses only about as much water per day as one flush of a toilet.
No fuss, no mess, no problem . . .
What's safe to go down a disposer?
InSinkErator food waste disposers are designed to handle just about any type of everyday food waste. But the topic of what not to put in a garbage disposal is alive and well, usually based on myths and old family stories rather than facts.
From lunch bars and restaurants to healthcare facilities and supermarkets, our food waste disposers help Food Service operations run at peak performance, enhancing day-to-day productivity by increasing staff efficiency, reducing operating costs and improving kitchen sanitation. Whether you cater for 25 or 2500 people, there's an InSinkErator food waste disposer for your kitchen.