InSinkErator's Hot Taps dispense filtered near-boiling water from an easily installed under-sink hot water tank. The unit produces the perfect temperature for making hot drinks, speeding up the preparation of pasta or vegetables, cleaning dishes and a host of other kitchen tasks.
InSinkErator's HotTap Systems dispense near-boiling filtered hot water from an easily installed under-sink hot water tank, which plugs straight into a normal wall socket.
The HotTap produces near-boiling water perfect for making hot drinks, speeding up the cooking of pasta or vegetables, cleaning dishes and a host of other kitchen tasks.
There are also models with the added bonus of delivering filtered cold water from the same tap.
Please note these products are for domestic use only and the warranty is void if installed in a commercial application.
Plug-in convenience with the NeoTank™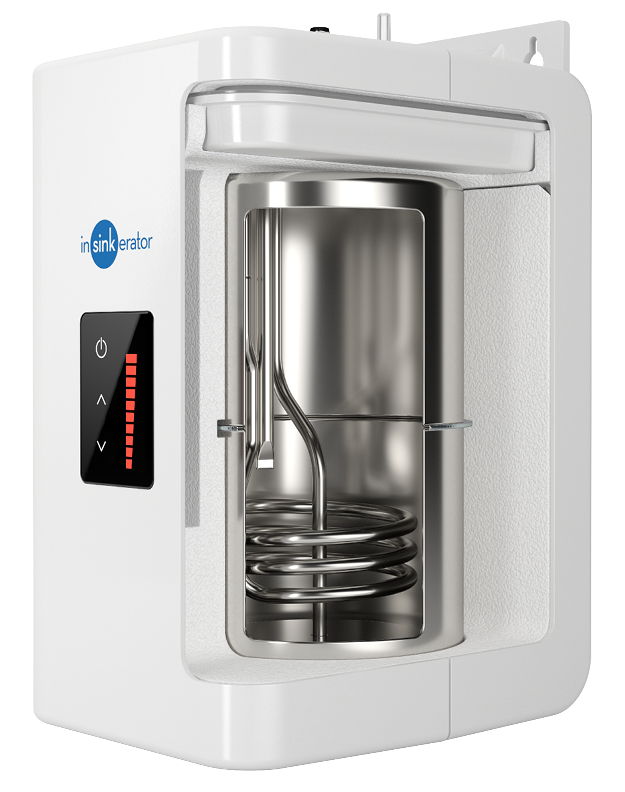 The compact and innovative NeoTankTM delivers near-boiling water for hot drinks and slashes your cooking times with a stream of steaming water for vegetables and pasta dishes. This ingenious unit also comes with an optional connector that allows you to filter your cold water as well, giving you great-tasting filtered water.
NeoTankTM is only about the size of a toaster, making it easy to hang on the back wall under your kitchen bench with minimum fuss.
The 2.5-litre capacity is easily sufficient for most kitchen tasks while reducing the heating requirement and saving you energy costs.
Finger-tip control with a touch-panel display for precise temperature adjustment.
Able to run on a standard electrical circuit drawing 5.6AMPs with an element
size of 1.3KW.
Quiet, energy-efficient operation.
Easy installation with tool-free connections and dry-start protection.
Standard 3-pin plug that plugs straight into a wall socket.
Elegantly designed range of tap ware that will look great in any kitchen. Featuring Hot Water push-lever locking mechanism to keep little ones safe around the kitchen.
Under Sink - Hot Water Tank
2.5 Litre Stainless Steel tank dispenses approximately 100 cups of near-boiling water per hour. With temperature control and automatic shut-off.
Quick Change - Water Filter
All InSinkErator Instant Hot Water Taps come with a 5-micron filter providing significant improvement in water quality and taste. The water is filtered for both the hot and cold water.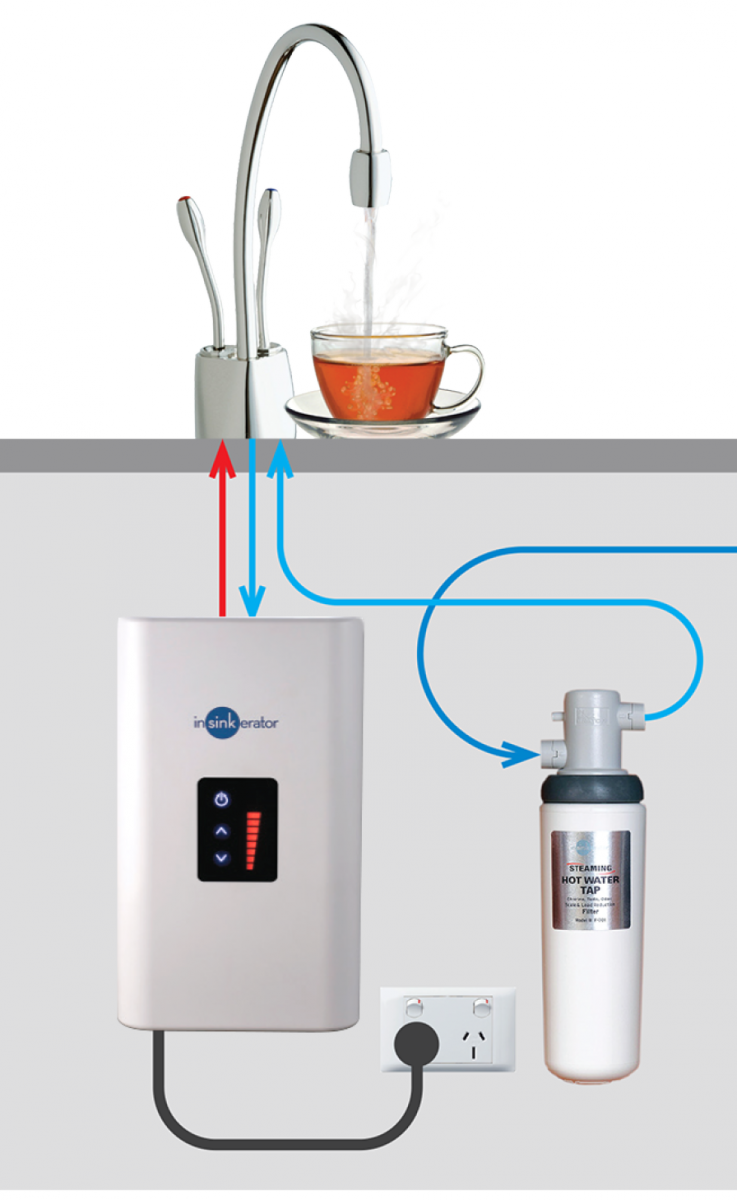 Filtered water...just tastes better!

All InSinkErator instant hot water taps come with an in-line filtration system using replaceable cartridges. The superfine 5-micron filters reduce impurities and odours, giving you better-tasting water for your water bottle, coffee or tea.
The twist-off/twist-on filter is easy to install and designed so the water automatically shuts off when the filter is removed, eliminating the need for a separate shut-off valve. Depending on local water quality and usage volumes, filter replacement is recommended every 6-12 months.